Wreath Laying Ceremony For Martyr SgCt Parvaiz Ahmad No 552/IR 6th Held At DPL Srinagar
Srinagar: To pay homage to the martyr, SgCt Parvaiz Ahmad No 552/IR 6th, who got critically injured in an encounter near Diyarwani Batmaloo Srinagar & subsequently attained martyrdom, wreath laying for the martyr was today held at District Police Lines Srinagar.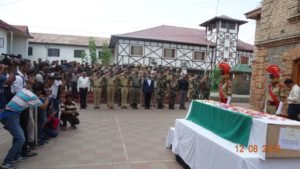 Senior officers of police/ paramilitary forces & civil administration including, Worthy DGP Prisons Shri Dil bagh Singh-IPS, ADGP Armed Shri A K Choudhary-IPS, ADGP Law &Order/security/Home Guard Shri Muneer Ahmad Khan-IPS,IGP Kashmir Shri Swayam Prakash Pani-IPS,IGP CRPF Sector Srinagar Shri Ravi Deep Singh ,IGP Armed Shri Shafkat Watali-IPS,DIG CKR Shri V K Birdi,Brigadier Army Signals (CSO) Shri R S Sani, DIG CRPF(ops) Shri A Sriniwas,DIG SSB Shri R.K . Bhumbla, DIG CRPF North Karannagar Shri Shalinder Singh, DIG CRPF (ops) Panthachowk Shri Rajesh Dhakarwal, SSP Srinagar Shri Imtiaz Ismail Parray-IPS, DC Srinagar Shri Syed Abid Rashid Shah-IAS,Commandant IR 6th Bn Shri Swaran Singh Kotwal-JKPS & others officers paid rich tributes to martyr & laid floral wreaths on the mortal remains for his supreme sacrifice made in the line of duty at Batmaloo Srinagar.