Police Station Nishat, Srinagar Seeks Help Of General Public To Identify The Suspected Thief Involved In Atm Theft Case
Srinagar: Police Station Nishat seeks help of the general public to identify a suspected thief wanted by the Nishat Police Station in Atm Card Theft.
One namely Noor Alam Kumar S/o Ab Razaq Kumar R/o Danpora Brane Nishat Srinagar lodged a written complaint in police station Nishat to the effect that when he entered in Atm and asked some unknown person to help him to withdraw cash from the ATM, the unknown person has changed his Atm Card with another one on 01-08-2018 from J&k bank Atm at Syed Reham shab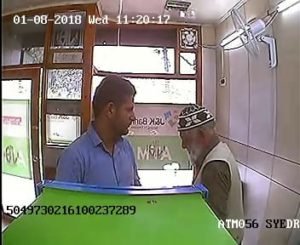 In this regard investigation was taken up.
During the course of investigation, this Police station collected the CCTV footage regarding the incident & photograph of the suspect obtained.
In case of any information/clue, kindly inform police Station Nishat on 9596770854.
The name of the person providing any clue or information regarding the suspected thief will b kept confidential.