Director declares 3rd edition of powerlifting competition open at NIT Srinagar
Over 240 boys, 60 girls participated in the competition
Srinagar, Nov 17: The Students Activity & Sports Centre, in collaboration with the Gymkhana Sports Club successfully organized the 3rd Edition of the Powerlifting Competition at National Institute of Technology (NIT) Srinagar.
The event was graced by the presence of the Institute's Director, Registrar, Dean Academics, and esteemed faculty members, kicked off with an electrifying atmosphere of excitement and sportsmanship.
Director NIT Srinagar Prof. (Dr) Sudhakar Yedla inaugurated the competition, emphasizing the importance of physical fitness and sports in the overall development of students.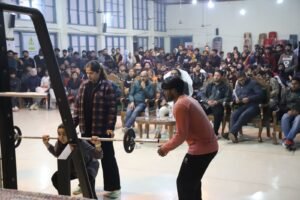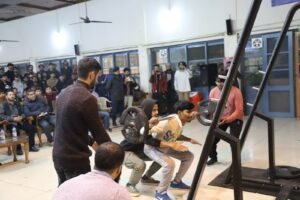 Registrar, Dean Academics, and other faculty members joined in to witness and support the students showcasing their prowess in powerlifting.
Over 300 students, including 240 boys and 60 girls' students, actively participated in the competition, bringing forth a diverse display of strength and skill.
The Powerlifting Competition featured various weight categories, allowing participants to compete at their respective levels and showcase their abilities in squat, bench press, and deadlift.
The camaraderie among the participants and the spirit of healthy competition were evident throughout the event, fostering a sense of unity and sportsmanship among the student body.
The organizing committee expressed their gratitude to Director NIT Srinagar, Students Activity & Sports Centre and Gymkhana Sports Club for their collaborative efforts in making the event a grand success.
They also acknowledged the dedication and hard work of the participants, whose commitment to fitness and sports serves as an inspiration to the entire institute community.