Bullet In Leg Since 1994, Lost Eyesight Eight Years Later, Poverty Stopped Shakeel From Medicare
Pulwama: Financial constraints stopped him from getting bullet out of his leg and eight years later he lost his vision.
Life has turned upside down for Shakeel Ahmad Ganai 40, the lone son of aged parents.
It's his wife, who works for Rs 400 a day and survives the family of six.
"It was a sunny day and it was time to prepare for Eid. It was arafah, in 1994. Ramadan was to end," Shakeel remembers the day the 'tragedies started to roll him over'.
Shakeel narrates the day as if he sees it. "Preparations for the Eid were all over, markets were abuzz'.
Shakeel S/O of Gh Mohd Ganai is resident of Pujj Mohllah Banpora Murran village of pulwama district in South kashmir.
"Around 9am I took the bus and within15 minutes reached I was at Pulwama market," Shakeel narrates the day.
The market was busy and rush in market had started to build. Shops were decorated, Shakeel describes, people wanted to buy items as soon as possible and return home.
"The situation was worse in 1990s. Grenades, firing and attacks were routine and armed struggle was its peak. Security forces had erected check posts, near Rajpora chowk they were checking identity cards," he says.
Shakeel was busy with shopping on the side of road when gun shots tore apart the market noise.
"I turn my face and fell down to the ground. Blood was all around me," he says.
He was hospital by a neighbor, Feroz Ahmad and was later referred to SMHS for further treatment.
He had received two bullets, one in ankle, another in leg (buttock).
While doctors removed on bullet from ankle, they could not pull out the second from leg. It was deep inside.
"Doctors told me that I need medication for 4 to 5 months so that bullet ascends from its place and then it will be removed," he says.
Back home from hospital, shakeel begun to take medicines and started feeling well.
The bullet inside his leg never irritated him and he went back to his meatshop.
Ganie's only own a piece of land over which their house is built, which only happened after locals pooled money to help the family construct the house.
"I was fine, and I forgot that I have a bullet inside me and financial contraints were such that I could not pool money for the next surgery," Shakeel explains.
Shakeel is the lone son of his parents, and he had to take care of them so he kept himself busy.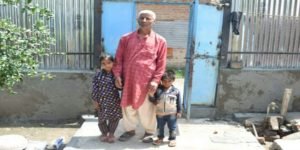 In 2002, Shakeel was shook by another problem, his eyesight began to blur.
Doctors put him on medicines but nothing worked. He quickly lost vision.
He rushed to Amritsar but all in vain.
"I was told by the doctors that bullet inside my leg has damaged the nerves resulting in loosing eyesight," Shakeel was shaken.
He still had no money to afford the surgery.
His parents will be left alone and their survival will be at stake.
All his income, 'meager', as he calls it was put to keep his family intact.
"All my life, my struggle was to help my parents. To provide for them. they had hopes on me as being their lone son. But now they were taking care of me. Times had changed," Shakeel says as he holds his face in his hands. Tears roll and he is choked.
"Its childrens duty that they take care of their parents but here I was, my parents had to look after me," he says in a choked voice.
As Shakeel and his family struggled to make two ends meet, he took a decision that he will marry so that it his wife who looks after him and also takes care of his parents.
"In 2011 I married to Afshana. She is from West Bengal," he says.
Afshana proved to be a brave woman, she looks after the whole family.
The parents, the husband and it is she who is surviving the family.
"She works in various homes and earns Rs 400 a day," he explains.
Shakeel and Afshana have two children, a five year old and a seven year old daughter.
Both are studying in government school in their native village.
Shakeels mother is a diabetic, and he would receive a monthly support from government as disability fund of Rs 1000.
Even though with abject poverty and financial crunch, its Afshana that has kept the family intact and the firm resolve of both the parents that they need to educate their children.
"We have lived the conditions which are not describable to you. We had faith in Allah. But as humans, I would like to see my family get support from society. So that they live a better life. So that my parents do not hesitate from having a necessary item," Shakeel said.
Shakeel says that he believes help will come one day.
"I wish to see again. I can still work and work hard. What if there is a chance that I can see again. See the beautifull faces of my parents, my wife and see my children grow. Help may come some day, lets wait," Shakeel hopes.
Story: Mudasir Maqbool