Awaam Ki Awaaz host's "Youth Caravan" a socio-cultural Youth Engagement in Pulwama, Jammu and Kashmir.
19th March, 2023Pulwama, Kashmir
Awaam Ki Awaaz, a prominent NGO hosted a massive outreach programme for the youth in Pulwama.
Youth Caravan is an initiative of Awaam Ki Awaaz for inspiring people to aspire change. The event was held on Sunday, 19th March at Town Hall Pulwama.
The event was aimed at promoting non-violence and empowering the youth in this region.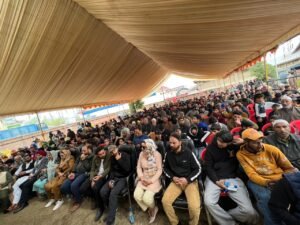 During the event, prominent activist Shah Fahad emphasized on the futility of violence and need for peace to bring about the lasting change in the region. Shah Fahad added that "We have lost many generations to conflict without any suitable outcomes". He also stressed on the need of ensuring that young people in Jammu and Kashmir have the same opportunities as their peers have in other parts of the country. "Our youth has immense talent and capabilities but they lack proper avenues and it is our collective responsibility to explore proper platforms for them". he said.
The event was attended by a large gathering of youngsters from the region, who participated in various cultural activities and engaged in meaningful discussions on social issues. The event provided a platform for young people to voice their concerns and ideas for a better future.
Noted artists Shafi Sopori and Noor Mohammad and Abid Ali gave enthralling performance before the audience. Local artists also presented rouff, bhangra, gatka of Gujjar community and bhaand performances.
"We are thrilled to have hosted such a successful event in Pulwama," said the spokesperson of the event. "Our aim is to inspire young people to become agents of change in their communities, and this event provided a great platform for them to come together and discuss important issues."
Other eminent speakers who attended the event include Arshad Bhat founder Awaam Ki Awaaz and Zahid Parwaaz Chowdhary President J&K Gujjar Bakarwal Youth Welfare Conference.
This event is part of Youth Caravan's series of events, in its efforts to inspire young people to become active members of their communities and promote positive change.