Emerging change makers in Kashmir who wear 'nationalism' on their sleeve
Emerging change makers in Kashmir who wear 'nationalism' on their sleeve
Srinagar, Apr 30, KDC: Kashmir has seen "false leaders and false promises" since 1947. But this falsehood is now being countered by emerging youth activists with the spirit of nationalism and their open hugging of the country of India.
The youth are becoming change-makers in Kashmir by doing the work on ground and organizing programmes for youth which promote Indian nationalism in Kashmir. This process has gained pace after abrogation of Article 370 on August 5, 2019. These youth conform to the idea of 'naya' Kashmir.
They serve the country to promote a sense of belongingness and promote great Indian civilization, democratic values in Kashmir.
Tariq Bhat
Tariq Bhat launched the first Local  TV channel in Kashmir, ANN News, the first and only TV news channel in Kashmir.
Bhat is the Chief In Editor of ANN News who was praised by the Prime Minister Narendra Modi in his radio programme Mann Ki Baat. Bhat is a young TV anchor.
Bhat is famous for asking direct questions about what he says, "the questions that really matter to people of J&K."
"When you are live on Tv and a responsible politician or bureaucrat or any other public figure is on a hot seat, people expect you to speak spade and spade. I ask what really matters for the people of J&K," Bhat said.
In his hard-hitting questions during Live Tv Show, as per Bhat, he has been exposing "Pakistan sympathizers, separatist sympathizers and militant sympathizers."
In his most watched Live Tv shows, he has hosted Asif Dar, Riffat Wani – the persons in Saudi Arabia and Germany, respectively.
"They are uploading provocative content based on falsehood and nefarious designs against my country while sitting in foreign. That is what allegations are against them. I hosted them in live to ask questions to expose the truth," Bhat said.
Bhat also hosted Mouvlana Sajad, a person from Pakistani administered Kashmir and who heads militant organization there.
"Sajad had no answers to the questions as to why Jihad is only duty in this part of Kashmir and not in PoK. He dodged several questions but I kept repeating such questions till he ultimately was exposed before the audience, before the people of J&K," Bhat said while replying to a query.
Bhat is also running a non-governmental organization, South Asia Peace Movement, which recently coordinated a much hyped award ceremony titled 'Real Hero Awards'.
During this event, police officials, civil officials, social activities, media persons and others were presented awards by the parliamentarians led by NDA leader Chirag Paswan in Srinagar.
"Bhat told KDC that people who were for an "independent Kashmir or merger with Pakistan" earlier have taken up the tri-colour today to prove that "they are with us (India) but such people can never be our own. They are the biggest traitors who shouldn't be trusted."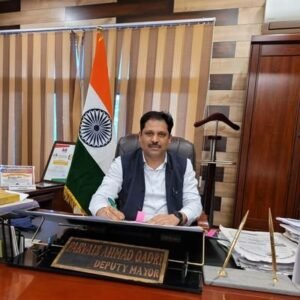 Parvaiz Ahmad Qadri:
Srinagar Deputy Mayor Parvaiz Ahmad Qadri has emerged as a new face of patriotism in Srinagar who recently unfurled tri-colour in world famous Dal Lake.
Qadri, is spreading patriotism is Downtown which once was hotbed of stone pelters in Kashmir and where people harbour for pro-Pakistan sentiment. However, politicians are trying hard to suppress his voice and efforts. Qadri's agenda is to wean away youth in downtown from Pakistan sentiment promoted by separatist leader Mirwaiz Umar Farooq and other separatist leaders.
Parvaiz Qadri, an independent candidate contested successfully civic elections in Srinagar. He was elected as the deputy mayor of Srinagar Municipal Corporation in January 2020, defeating the BJP's Arif Raja. Qadri got 33 votes, while the Bharatiya Janata Party (BJP) candidate secured 24 votes.
Mir Junaid:
Junaid Mir is the new face in J&K politics and has successfully organized several public programmes. He is the president of JK Workers Party. Mir belongs to the Langate area of north Kashmir in Kupwara.  He organized first anti-Pakistan rally in Kashmir's Srinagar on October 22 last year. Mir remembered this day as 'Black Day' in Kashmir as Pakistan supported raiders rampagingly raided Kashmir.
He has been also visiting far-flung areas and towns in an effort to reach people, listen to their grievances and try to redress them.
He has also been a regular face on national TV news channels and on social media, defending India and "exposing Pakistan."
Sajid Yousuf    
Sajid Yusuf, one of the youngsters, from Lolab in Kupwara, has been holding several programmes under the banner of 'All JK Youth society' including famous sports tournaments, especially in rural Kashmir. His recent programme "The Fashion Show" got popularity in Kashmir though few also objected to such events. He is an aspiring politician in Kashmir who wants to give an alternate voice to youth of the Valley and get them away from the false belief of militancy. He is active on twitter countering the pro-militancy narrative on social media. Sajid is a TV debater also.
Sajid is also running 'The Real Kashmir' a news portal from Capital city Srinagar.
Towseef Raina:
Towseef Raina has, from Baramulla, been recently elected as chairman municipal council of Baramulla district in north Kashmir. He has organized several youth oriented programmes in past and has been on forefront in promoting civilization and other relevant activities in different parts of Kashmir. (KDC)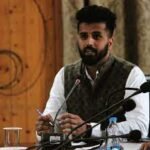 Wajahad Farooq Bhat
The social and political analyst who also runs the NGO Save Youth Save Future. He has successfully conducted several youth oriented programmes, debates etc. His programes are mainly based on transformation of astray youth. He has so far successfully counselled many stone peltors and youth who had come under the influence of radicalization