R Pradeep's book Shotokan Karate makes records across the globe
ANN News Desk
Srinagar, July 9: The book 'Shotokan Karate' authored by Dr Pradeep Kumar Yadav has won around 25 awards for its excellence including internationals honours.
Dr Pradeep who considers Prime Minister Narendra Modi as his role model is a black belt (3rd DAN) in Karate from the World Karate Federation, Spain.
Dr. Pradeep has the experience of more than 25 years of learning and teaching Karate and has trained more than 15000 girls and boys in Karate sports also resulting in unity and integrity of India to make one nation.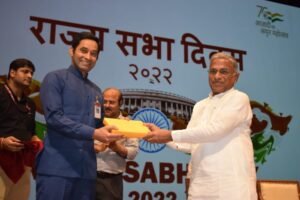 His book on Karate 'Shotokan Karate: Easiest Way to Get Black Belt' has won 5 world records and 10 international awards.
The awards presented to Dr Pradeep include by United Nations High Commissioner for Refugees and International Model United Nations Appreciation Certificate, Nelson Mandela Nobel Peace Award 2022 (Received from Honorable Prime-Minister Shri Narendra Modi's brother Shri Prahlad Bhai Modi at Mumbai), Honorary Doctorate Degree (Honoris Causa, from St. Mother Theresa University, Australia).
The awards also include Atal National Award 2022 (Received from the Honorable Governor of Maharashtra Shri Bhagat Singh Koshyari at Raj Bhawan, Mumbai), San Francisco Book Festival Awards 2021, Literary Titan Silver Award 2021, Hollywood Book Festival Awards 2021, America Book of Records 2021, Harvard (London) World Records 2021.
Dr Pradeep has also received International Book of Records 2021, Asia Book of Records 2021,Firebird Book Award 2022, Bluerose Book Award 2021, Caesura Book Award 2021,Rabindranath Tagore International Prize for Art and Literature Award 2021, Sahityakosh Samman 2021, Literary Icon Award 2021, FoxClues India Prime Awards 2021 19. India Book of Records 2021, LiFT Award 2022, Elite Book Award 2021, Inspiring Indians 2022, Author of the Year 2022, Inspiring Communities Fellowship 2022, Sylvia Plath Memorial Literary Prize 2022.
Vice-President of India M Venkaiah Naidu, Home Minister Amit Shah and Speaker Lok Sabha Om Birla have also felicitated Dr Pradeep for his work for the promotion of unity and integrity. Prime-Minister Narendra Modi is the idol of Dr Pradeep.