CID's significant inputs lead to arrest of imposter in Kashmir
Mudasir Yaqoob
Srinagar, March 19: J&K Police arrested imposter posing as high rank official from Prime Minister's office and enjoying protocols provided by J&K government.
The imposter Kiran Bhai Patel from Gujarat has forged documents wherein he claimed to be "Additional Director (Strategy & Campaigns) Prime Minister's Office".
The Police got suspicious about conman after CID provided significant inputs and the suspect was put under surveillance.
"The imposter was arrested after collecting all necessary and solid evidence against him," said an official.
Sources said that CID kept vigil eye on the activities and movement of suspect and also cross-checked his claims and documents Patil had produced to support his claim.
"As the secret investigation was going on, the conman was given free hand to move and meet. It was only to first ensure that all details are cross-checked before sending him behind the bars," said an official.
Sources said that during his stay in Kashmir, Patil met with several government officials and it is believed that he 'duped' some of them assuring posting of "their choice."
During his visit and stay in Kashmir, Patel enjoyed VIP Protocol and was escorted by security. He enjoyed stay in five-star hotel at the expenses of state exchequer.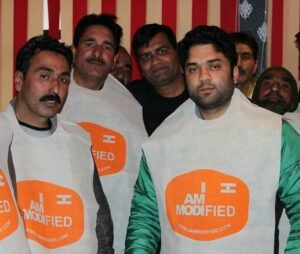 The photographs suggest that several BJP members also called on Patil and sought favours. However, it was not immediately known as how these BJP members came to know about presence of Patil in Kashmir and who managed their meetings with imposter.
Patil has posted videos, showing he being escorted by security in Kashmir, on his social media accounts.

The court on Thursday granted judicial custody of accused and sent him to Srinagar Central Jail.
The Police has booked accused under various sections of Indian Penal Code, which if proved in Court, may warrant life imprisonment.
(Inputs Tariq Bhat )